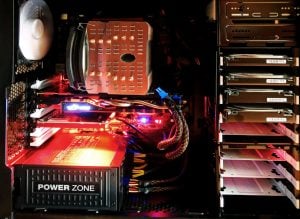 This easy 2-step guide will show you how to scale RAM and CPU cores on a virtual server.
RAM and CPU can be increased or decreased at any time from your client area.
Do you need to scale a Disk too?
Check out our Scaling A Virtual Server's Disk tutorial
Prerequisites
An active Virtual Server
Available resources in your Cloud to scale to the desired levels.
Need more resources? Upgrade Your Cloud
Step 1) Open The Virtual Server's Details Page
From the Client Area go to the My Services menu, and select a Cloud category.
Then, select the cloud from your list that contains the Virtual Server you wish to edit.
Next, click on the hostname of the Virtual Server to open its details page.
Step 2) Scaling The Virtual Server Resources
From the Virtual Server's Details Page, click on the "Scale Server" tab.
From the "Scale Server" page, use the sliders to increase or decrease the RAM and CPU Cores on the server.
When finished, click the "Update Resources" button to process the changes.
Note: A Reboot may be required to finalize the changes.
As always, if you have any questions you can contact us by Support Ticket, email, or open a Live Chat from our webpage.