WordPress Toolkit Deluxe Is Now Free
We are now offering WordPress Toolkit Deluxe with our cPanel/WHM licenses at no extra cost. This toolkit provides an easy to use interface for configuring, securing, updating, and managing WordPress sites. WP Toolkit Deluxe automates, accelerates, and streamlines WordPress management, helping cPanel & WHM users to efficiently maintain, secure, and configure multiple sites in one place.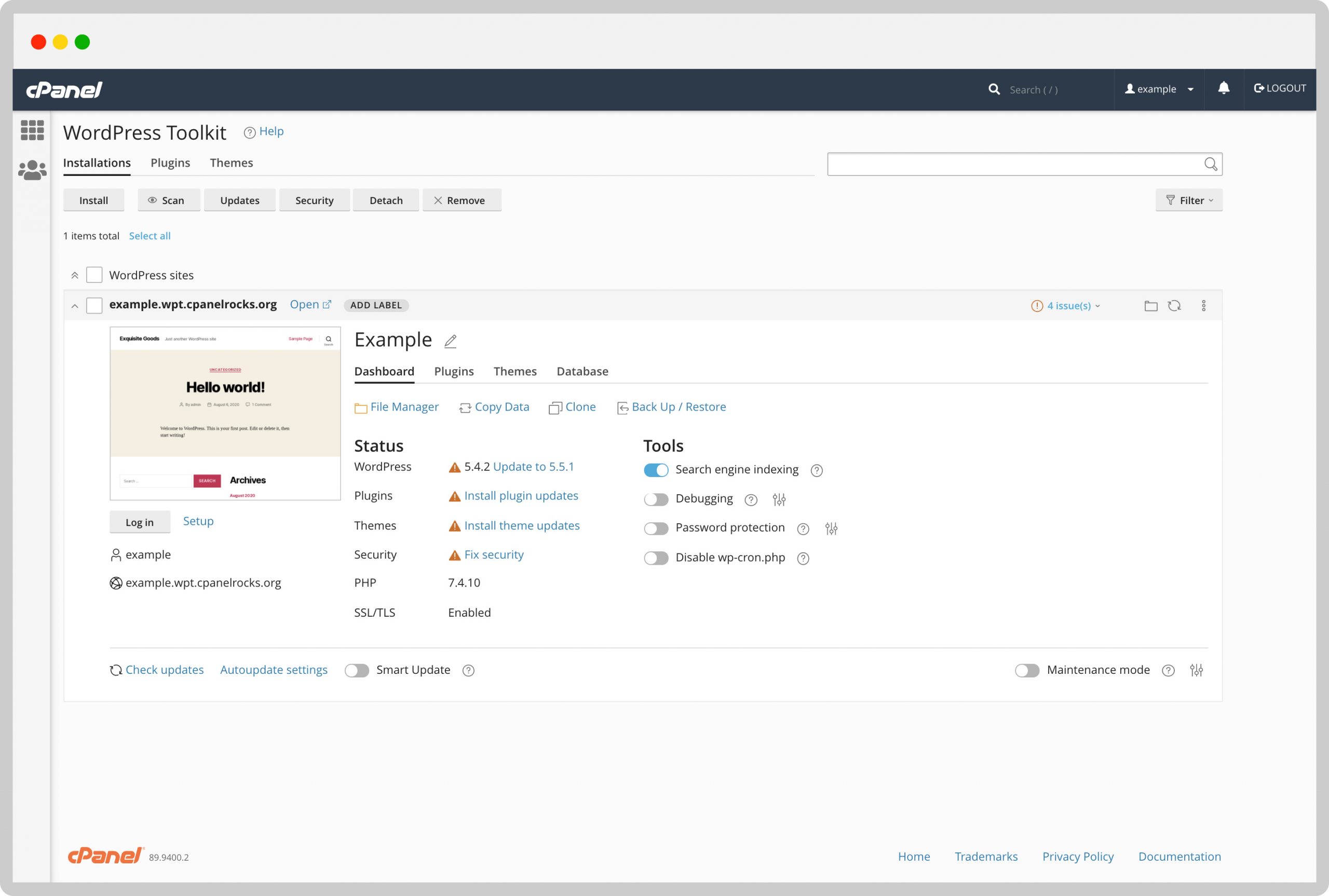 Deluxe Features
WordPress Site Cloning and Staging — WP Toolkit can clone any WordPress site it manages. It's a simple one-click process.
Smart Updates — Update, test and produce a report in an interface that allows you to visually compare the site before and after updates.
Mass Hardening and Updates — Allows users to scan sites and selectively apply security hardening settings to multiple sites simultaneously.
All WordPress sites are displayed in a single dashboard — view the update and security status of all sites alongside easily accessible site management tools. The dashboard can be searched and filtered to show only the sites you are interested in.
Customizable installation — cPanel users can install new WordPress sites in seconds, and each site can be customized before installation. Customization options include the installation path, website title, administrator details, database name and password, and automatic update settings.
1-Click Logins — Log in to the admin dashboard of any WordPress site managed by WPT with a single click.
Automatic Security Hardening — During installation, WPT automatically applies a number of security enhancements that include limiting access to sensitive files, turning off pingbacks, configuring security keys, and more.
Debug Management — Quickly activate WordPress debugging modes from the site's dashboard. You can also turn on an enhanced maintenance mode, turn off search engine crawling, and activate password protection in the same interface.
Plugin and Theme Set Installation — Automatically install predefined plugin and theme sets when a site is installed. This feature makes it straightforward to set-up blogs, WooCommerce stores, and more.
Single-site Automatic Updates — Change the automatic update settings for WordPress sites and their themes and plugins from within cPanel.
Getting Started